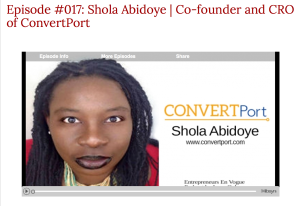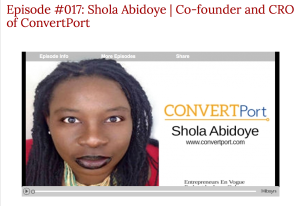 Listen To the Full Episode Here:
http://entrepreneursenvogue.com/episode-017-shola-abidoye-co-founder-and-cro-of-convertport/
Shola Abidoye has completely blown our minds with her energy, expertise and mindset. She is one confident serial entrepreneur that will NOT settle down for less than what she wants and deserves. Shola is the Chief Executive Officer of Convertport and the world's leading expert in CRSP(TM), the scalable digital sales technology process. Her first online venture was acquired in 2012 and she has grown 3 businesses by over 10,000% in the last 5 years alone. Her mission is to save 1 million entrepreneurs from being yet another business mortality rate statistic (ask her how). Originally from Washington, DC, she lives between the East Coast, Europe and 346 ft away from the beach on the Mexican Riviera. (We're so jealous!) She has cracked the code to unlock controllable, repeatable, scalable and predictable sales funnels for emerging businesses and she shares it all in this episode.
Imagine growing your revenue and business all without the hassle associated with social media, PR, content marketing or blogging. As she stresses it multiple times, when launching and growing a business it's ALWAYS
ABOUT THE CUSTOMERS! Know why they should choose you and why they shouldn't choose you. We fell in love with Shola's enthusiasm, confidence, charismatic personality and most importantly her insightful advice: "Figure out the type of lifestyle you want and put a specific price tag on it" -Shola Note: Because this episode is extremely eye-opening and dense in information, make sure you are taking notes and revisiting them after the episode. As Shola said, if there is one thing you can do after this episode is to set aside 15min on your calendar with yourself and spend some time getting to know what you aspire to be.
Listen To the Full Episode Here:
http://entrepreneursenvogue.com/episode-017-shola-abidoye-co-founder-and-cro-of-convertport/