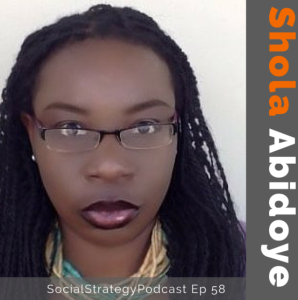 Listen To the Full Episode Here:
http://vernonross.com/shola-abidoye/
Shola Abidoye is the world's #1 expert in CRSP™  Which stands for – controllable, repeatable, scalable, predictable.  This applies to the area digital sales growth.  Like most successful serial entrepreneurs been involved in several successful ventures with incredible growth rates in profit.
It's not surprising that being a trained economist educated at Oxford University and KTI in Sweden that she's been able to achieve the level of success she has and truly live the digital nomad lifestyle in Baja Mexico.  Shola's current company ConverPort her team helps entrepreneurs convert clicks into lead and ultimately into customers.
I think Shola offers an interesting perspective on how to approach online business that's not from a blogger perspective.  She's providing a valuable software as a service (SAS)system to make sustainable and stable income.  A major challenge for anyone wanting to cut the cord from the corporate grind.
Not only is Shola a great business woman but a master networker.  She reminds us that it's not just important to focus on people you meet at conferences and in business but the people you knew in High School and College.
Insights By Shola
A big part of business is leveraging parts of social relationships that may not be obvious to you at first.
Paying for visibility shows how smart of a business you are it doesn't show defeat.
Understanding that you can learn from everyone that you're around.  You don't have to go to fancy schools to be a great entrepreneur.
How to get crystal clear on what your goals are and what you need to focus on.
Listen To the Full Episode Here: